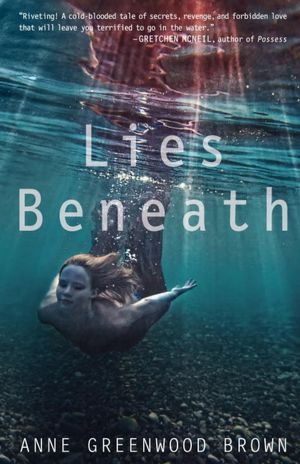 Title: Lies Beneath
Author: Anne Greenwood Brown
Publisher: Random House Children's Books
Source: Netgalley
Rating: 5 stars


Calder White lives in the cold, clear waters of Lake Superior, the only brother in a family of murderous mermaids. To survive, Calder and his sisters prey on humans, killing them to absorb their energy. But this summer the underwater clan targets Jason Hancock out of pure revenge. They blame Hancock for their mother's death and have been waiting a long time for him to return to his family's homestead on the lake. Hancock has a fear of water, so to lure him in, Calder sets out to seduce Hancock's daughter, Lily. Easy enough—especially as Calder has lots of practice using his irresistible good looks and charm on unsuspecting girls. Only this time Calder screws everything up: he falls for Lily—just as Lily starts to suspect that there's more to the monsters-in-the-lake legends than she ever imagined and just as his sisters are losing patience with him.
A spellbinding new novel that will leave you breathless!
The setting for this book was unique and perfect for the mystery behind these siblings. This story was very well written and had some of the most beautiful imagery I have read yet. It was very descriptive and gave off the somewhat ominous feel that went so well with this book.
"Lies Beneath" is told from the point of view of Calder which is an interesting change since most books from this genre are told from the female point of view. I really enjoyed hearing from Calder's point of view and seeing how he lived. Even though he started out as the villain it was easy to identify with him. He has problems of his own and tries to deal with them the best that he can and I believe that he is inherently good and his struggle to stay true to himself even in the face of his sisters was one of the things that intrigued me and made me fall in love with this character. Lily was sweet and a perfect match for Calder, these two really made the story for me.
You'll never look at a lake the same way again.