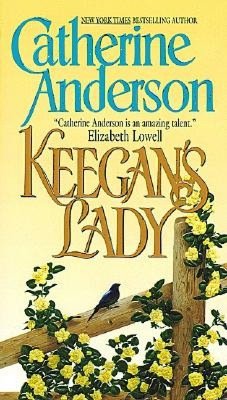 Title: Keegan's Lady
Author: Catherine Anderson
Source: Bought
Mass Market Paperback: 416 pages
Publisher: Avon (January 25, 2005)
Rating: 5 Stars

Synopsis:


Caitlin O'Shannessy's late father left her with many things: a Colorado ranch, enduring memories of pain and sadness, an unshakable mistrust of men ... and an adversary.
Ace Keegan has returned to No Name, too late to enact a rightful vengeance on his most hated enemy. The man who put a hole in Ace's life is dead, leaving a daughter behind to run the family enterprise. Though proud and strong as well as beautiful, Caitlin is caught off guard when Ace's calculated anger inadvertently destroys her good name. But Ace Keegan is a man of honor, determined to make amends by marrying the enchanting lady he wronged -- and to nurture with patience and love the light she guards in her damaged heart until it blazes with the power of a thousand suns.
Buy Links
Amazon
-
Barnes and Noble
My Thoughts
Keegan's Lady is one of the sweetest romance books I have ever read. Full of tender moments that may make you shed a tear or two Keegan's lady is a touching tale of two people who have been hurt deeply both physically and emotionally that come together and are able to help each other heal. The author touches on some very emotional and troubling issues of rape and abuse. This however is not a depressing read, but a very uplifting and touching story of hope and courage.
The heroine, Caitlin, has not had the best life and because of this is fearful of all men except her younger brother. This character is very human with imperfections that make her a very memorable character. She deals with her problems and with some help is able to find the courage to overcome her deeply held fear of men.
Ace is a typical alpha male type hero in that he doesn't take crap from nobody and knows how to get what he wants. Unfortunately he learned the hard way having to help take care of his family from a very young age after the death of his stepfather. Though quick of temper and a little rough around the edges, Ace is a very honorable man and owns up to his mistakes. When he realizes that he has hurt an innocent woman he does what he thinks best to take care of it.
If a tale of hope, courage, and love is what you are interested than look no further than Keegan's Lady by Catherine Anderson.