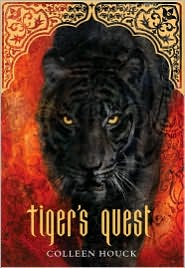 Title: Tiger's Quest
Author: Colleen Houck
Publisher: Splinter; 1 edition (June 7, 2011)
Source: Bought
Rating: 5 Stars
Synopsis:
Back in Oregon, Kelsey tries to pick up the pieces of her life and push aside her feelings for Ren. But danger lurks around the corner, forcing her to return to India where she embarks on a second quest--this time with Ren's dark, bad-boy brother Kishan, who has also fallen prey to the Tiger's Curse. Fraught with danger, spellbinding dreams, and choices of the heart, "Tiger's Quest" brings the trio one step closer to breaking the spell that binds them.
My Thoughts
If you liked the first one you'll love the second book in the Tiger's Curse Series!
The magic and adventure continues to grow in this next installment as the two brothers and Kelsey face an old foe that proves to be even more dangerous than the monsters they will encounter.
Even better than the first Tiger's Quest gives tiger fans a look at another special tiger by the name of Kishan. We had a glimpse of this mysterious character in Tiger's Curse, but after reading Quest many tiger fans may have a new favorite tiger. Just as sweet and endearing as his brother Kishan has a charm all his own that will make fans such as myself swoon, but don't take my word for it find out for yourself in the next book in Colleen's exciting tiger series!

Kelsey was able to grow a lot as a character as well and we got to see a different side of her. She really was a strong and kind woman and we got to see just how strong she could be when she is faced with one of the most difficult situations of her life. Her love for Ren and her will to go on will be tested to the limit in this next installment.

Their journey to break the Tiger's Curse has just become even more dangerous and every ounce of courage they possess will be tested in the Tiger's Quest!