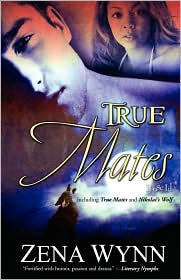 Title: True Mates
Author: Zena Wynn
Source: Bought
Paperback: 364 pages
Publisher: Loose Id, LLC (September 28, 2009)
Rating: 5 stars
ISBN-10: 1607374064
Synopsis:
TRUE MATES: Kiesha Morgan is a plus-sized, bi-racial business woman who lives life on her own terms. Her life is all about control...her control. She owns her own business, her own condo, and conducts her relationships the same way she runs her business--by her rules. Any man that doesn't like it is welcome to leave. Alex Wolfe is the town of Refuge's only veterinarian. He's also a shape-shifter, and the Alpha of the Raven Pack. He's been waiting for the woman who can complete him, his one True Mate. Even though the odds of finding her are slim, he refuses to settle for second best. Once he finds her, he'll never let her go. Their worlds collide when Kiesha is snatched out of her nice, safe world and mysteriously teleported to a clearing in the woods outside of Refuge. She's out of her element and things are out of her control. Life just got a little bit more interesting...
Buy Links
Amazon
My Thoughts
Warning: Spontaneous combustion may occur while reading this dangerously sexy story
This book has some steamy love scenes that is for sure. If you love to read books that have tons of erotica with a little more plot added to make it interesting then you are in the right place. True Mates will have you panting over the sinfully delightful sexual encounters between the two. They do not go too over the top though no bondage or whips. The hero is also a werewolf who will do anything to keep his mate with him. The only downside is the shortness of this book, but if this is your type of hero go ahead and check him out he won't bite, much.