I have a couple of great book covers for this thursday tell me what you think.
What would you do if a simple errand takes a deadly twist, turning you from cautious prey to dangerous predator?
When Darcy's outing takes a turn for the worst and tests her to the point of breaking, she struggles to maintain her humanity. Where loyalty and pack mean everything, she surrenders to the inevitable and only an act of complete trust can touch her. When all is said and done, with memories flooding her mind, Darcy holds tightly to the only thing that makes sense - it was all a dream. Or was it?
Shade is just trying to graduate high school. Just another ordinary teenager with some quirky talents. One day, the bothersome voices she sometimes hears in her head bring her to a chance meeting with a powerful faerie warrior named Jack. He wields electrical currents and blue fires along his skin. Joining him, she enters the mysterious, frightening and magical world of Faerie, where nothing is what it really seems to be.
Shade is selected by the Seelie Queen to fulfill a quest to obtain a liquid magic that could aid the Guildrin Court of Faeries in an ongoing war against the evil Unseelie Queen and her treacherous Lonares soldiers. Around every corner and across breathtaking landscapes of the world of Faerie that exists alongside our ever so mundane world, Shade grows along with her magic and meets some of the most powerful warriors Faerie has to offer. Shade battles evil dryads, conniving Teleen guards and challenges on her life with every step. In a world where nothing is taken for granted or underestimated, Shade discovers that she might not be as weak as she or others may have perceived.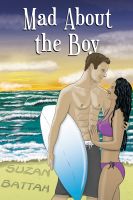 Julia Mendoza is driven by the success of her business. Since her husband Carlos passed away at such a young age, her business By Design is her number one priority. In her late twenties she works too hard and doesn't take time out for fun. Annoyance with a pesky ex-friend has her begging one of the local surfer's with a cheeky smile in the grocery store to pretend he's her boyfriend. Suddenly, life takes a sudden detour from her business plan; much to the delight of her boisterous Latin American family.
Christophe Augustine is groomed to take over his father's successful chain of luxurious hotels. With a wealthy French-American background, Chris has been given privileges that not many have. He works hard, plays harder but seeks approval and recognition above all else. Family is a top priority for him as he fights for custody of his young brother. His parent's divorce has not diminished his faith in romance. When a gorgeous Latino woman changes one boring morning into an interesting game of role play, though reluctant to help at first, he soon realises she's not like the string of other women he's known.
A romantic first date ending dramatically doesn't stop Chris from wanting to know Julia more. And for Julia, she's all for a bit of fun but when things get too serious she's running the other way. Too alike, in some ways and complete opposites, in others ways, Julia and Chris fumble through fun moments, annoying confrontations, passionate times and heartbreaking revelations.
Love has no boundaries when soul-mates meet but when one is ready to love and the other one isn't...