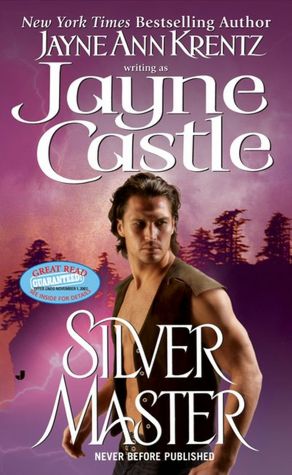 Title: Silver Master (Ghost Hunters, Book 4)
Author:
Jayne Castle
Publisher:

Jove (February 24, 2004)
Rating: 4 stars


Source: Bought
Synopsis:
Cadence City matchmaker and para-resonator Celinda Ingram meets her match in security specialist Davis Oakes. On the hunt for the powerful relic that Celinda supposedly bought as a toy for her pet dust bunny, Davis must use all of his unique psychic abilities to try and wrest the ruby red object from the suspicious duo, keep his desire for Celinda in check-and keep them all safe from those who will do anything to possess the relic.

A matchmaker and a scarred Ghost Hunter find that love comes at the most unlikely of times.

Celinda is used to others uneasiness about her gift so she mostly keeps it a secret, but when she meets David who has an unusual power of his own they find an attraction to each other hard to resist.

Celinda is beautiful woman both inside and out and I was so happy that she found someone like David who understands and cares for her just as she does for him. Both of these characters keep their gifts a secret for fear of being rejected and being able to go along on their journey to protect the precious object and see how their love unfolds was such a delight.

I highly recommend this book to anyone who loves a good paranormal romance.