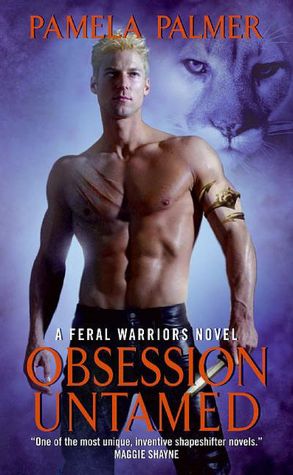 Title: Obsession Untamed
Author:

Pamela Palmer
Publisher:

Avon
Rating: 5 stars
Source: Bought

They are called Feral Warriors—an elite band of immortals who can change shape at will. Sworn to rid the world of evil, consumed by sorcery and seduction, their wild natures are primed for release . . .
Every time she closes her eyes, Delaney Randall suffers another nightmare. A brutal serial killer has found his way inside the tough, take-no-prisoners FBI agent's head. Now she lives the murders through his eyes, from his deadly approach to his victims' screams—until the night he breaks into her apartment and she fears she's going to be the next to die.
But the man who snatches Delaney from her home isn't the murderer. He's Tighe, a dangerous Feral Warrior who needs her and her visions to stop the rampages of a creature as inhuman as he is evil. Tighe has little use for humans, but as he and Delaney join forces to track the dark fiend, he falls for the intense beauty and becomes wild with an obsession as untamed as his heart.
Wild is the perfect word to describe these warriors and the perfect way to describe this book.
Delaney is all about control and keeping her cool under pressure, but she is not feeling in control anymore since a sick serial killer found their way into her head. She was a great character to read about and I couldn't help, but get emotionally tied to her and Tighe. The author is very descriptive and I cringed at some of the vile things that this killer did, but I was also fanning myself at some of the encounters between Delaney and Tighe.
I loved Tighe, but his thick headedness did make me really frustrated. I was practically screaming at these characters at some points and jumping for joy at others. The way these characters lived and fought was unique too I liked hearing about these new breed of shifters.
I really enjoyed this wonderful book and would highly recommend it to fellow readers of paranormal romance.