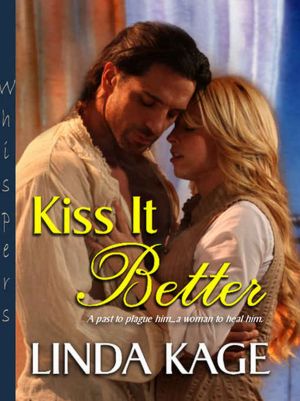 Title: Kiss it Better
Author: Linda Kage
Publisher: Whispers Publishing


Rating: 5 stars


Source: Review Copy
A PAST TO PLAGUE HIM: When his sister is attacked, memories of his miserable childhood assault Reed Walker and interfere with his perfectly structured life. To add to the chaos, just when dating becomes the last thing on Reed's mind, Sophia Eschell, the very woman he's been dreaming about for the past three years, noses her way into his life.

AND A WOMAN TO HEAL HIM: After hooking up with too many troubled men, Sophia is determined to find a normal, average guy sans baggage. She turns her attention to Reed, only to discover he has more issues than anyone. But if he can learn to open up to her, can she honestly reject him or will she kiss it all better?
A

heartwarming tale filled with love and hope.
This story was beautifully written and captivated me from the beginning. I have enjoyed books by this author before and was not disappointed with this one. The characters slowly worked their way into my heart and I found myself sharing many of same emotions as Sophia throughout her journey to find out what loving someone really means.
Sophia was a courageous and caring woman and I highly enjoyed seeing the relationship between her and Reed slowly develop. She grew a bit throughout the book as well and finally realizes that when it comes to love the heart doesn't abide by any rules or conditions and nothing can stop it.
Reed hasn't always had the best life and it has only gotten worse. Despite all of this he has a big heart and any woman would be lucky to have him. He was an interesting character that I enjoyed getting to know right along with Sophia. He also grew a lot throughout the book just as Sophia did.
I highly recommend this book to anyone who loves heartwarming romances with characters that will captivate you from the very beginning.