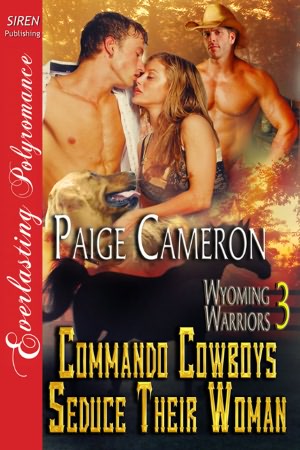 Written for

The Romance Reviews
Title: Commando Cowboys Seduce their Woman (Wyoming Warriors 3)
Author: Paige Cameron
Rating: 5 stars
Ellen Simmons is scared. When she signals the Commando Cowboys for help, Sahale Connor arrives at her door. His beautiful eyes, gorgeous body, and delicious scent stir feelings she's kept repressed. At the ranch, she discovers his best friend, Jack Talisman, affects her the same way.
But Ellen doesn't trust men. Her marriage ended badly, and her former father-in-law had threatened her, if she said anything about them. She hadn't. But now she's in danger and doesn't know why.
Sahale is told to question Ellen. He's to find out what she knows that makes someone want to shut her up. Sahale convinces Ellen to tell him some of her life story. When she does, his instinct tells him the man Ellen fears may be the one they seek. Sahale and Jack need to keep her safe, catch the man they'd been hunting, and convince Ellen to trust and love again.

My Thoughts
Miss Independent is about to find out the hard way that three is definitely better than one.
Ellen is an independent woman and won't allow any man to control her, but she is in danger from someone in her past and they won't stop until she is dead. Ellen calls for help from an old friend and in the process meets two irresistible men who don't take no for an answer. Sahale and Jack both want Ellen for their wife and will do whatever it takes to keep their woman safe and to convince her that falling in love is nothing to be afraid of.
Ellen was a great character with real depth to her. She is a strong and sometimes stubborn woman and because of this really gives Sahale and Jack a challenge making for some very interesting and even steamy confrontations between the threesome. I liked her ability to be brave even if that meant facing the one trying to kill her. She was the perfect woman for Sahale and Jack who needed someone to challenge them every once in a while.
Sahale was a kind and strong hearted man who was very gentle when he needed to be with Ellen. He was anything but that in the bedroom though things really heated up between these two once it came to that. He really knew how to show her how hot things could get in the bedroom with the right man and he was definitely the right man.
Jack was a bit different than Sahale. Where Sahale was gentle and thought things through, Jack tended to move fast and was sometimes too quick to speak, but he made up for it with his unending charm and love for Ellen. He was also very dominant when it came to their lovemaking making for some very steamy love scenes.
I liked that the relationship between these three developed at a nice pace instead of rushing into anything. Learning about how Jack and Sahale grew up was interesting as well. It was nice to see how two complete opposites became best friends.
I loved the story and how much Ellen was able to grow throughout the book. There was also a lot of action and a few tender moments that helped to even out the heavy dose of romance. I also liked seeing how everyone worked together as a family and did whatever they could to help someone others in their time of need.
For a heartwarming and thrilling romance I highly recommend Commando Cowboys Seduce their Woman by Paige Cameron
Warning:
Multiple Partners