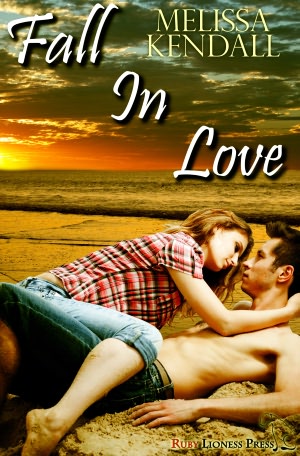 Title: Fall in Love
Author: Melissa Kendall
Publisher: Ruby Lioness Press
Rating: 4 stars
Source: Review Copy

Synopsis:
Michael Dunbar finds his secluded life on a cattle station in the outback to be lonely. Mia Mason longs to leave the hustle and bustle of the city behind for a quiet life in the country. Find out what happens when fate causes these two paths to cross.

Also be sure to check out the other stops on this tour:
1 – Interview & Review @
Shayna Gier
4 – Interview @
W. Lynn Chantale
7 – Interview @
Books-n-Kisses
10 – Interview @
Lisa Sanchez
12 – Interview & Giveaway @
You Gotta Read
14 – Interview @
Mike Woody
15 – Spotlight @
Simply Ali
17 – Spotlight & Review @
Reader Girls
22 – Review @
My Reading Room
22 – Review @
Curse of the Bibliophile
24 – Guest Blog & Giveaway @
Ramblings from this Chick
28 – Review @
Close Encounters with the Night Kind
Buy Links
Amazon
-
Barnes and Noble

My Thoughts
Opposites attract in this sweet romance about two couples who find just what their looking for in the unlikeliest of places.
I loved the fact that the book was set in Australia. It was the perfect setting for this fateful encounter and the author uses great descriptions that really sets the mood for the story. Imagery in the story was beautiful as well and I thought it reflected how the characters were feeling and how they were both looking for something more out of life.
The characters were loveable and well written. I also really enjoyed the romance which was sweet and had just the right amount of passion to really heat things up at the right time.
All in all I highly recommend this to any romance lovers who enjoy a sweet contemporary romance.
Melissa Kendall is a 36 year-old mother of a 3-year-old son. She lives in Perth, Western Australia and is predominantly a stay at home mum. She does still work a few hours a week as a Software Support Consultant to keep her brain active. She has always loved to read and write and spent most of her teens writing poetry and short stories. Over the years as daily life pressures got in the way she lost the passion for it. After her son was born she was looking for something to do while feeding him because as fun as just watching him drink was, she wanted something to keep her brain active. Melissa discovered online books and her interest in writing was rekindled. It has been a large part of her life ever since.