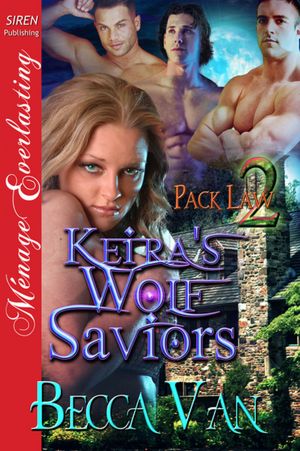 Title: Keira's Wolf Saviors (Pack Law # 2)
Author: Becca Van
Publisher: Siren-BookStrand
Rating: 5 stars
Source: Review Copy
Keira O'Lachlan, a wealthy heiress, is on the run from her brother, who intends to kill her and help himself to her money. Too afraid to leave a
paper trail by accessing her bank account, she runs out of cash after about a month on the road. She walks into the Aztec Club in Aztec, New Mexico, and asks about a job.

She is bewildered and nervous to find herself surrounded by three of the hottest men she has ever seen. Brothers Jake, Greg, and Devon Domain hire her to tend to the club's books, offering her a place to stay in the meantime. Without much choice, and intrigued by the brothers, Keira jumps at the chance.

Will the three werewolves be able to woo Keira into their hearts and bed? Or will her brother and his cronies succeed in eliminating her.
After finding out about her brother's intention to kill her Keira took off with whatever she could carry and headed for the hills. She has been on the run for a month and is tired, hungry, and plagued with nightmares. She is about to run out of money as well so she decides to use the last of it on a good meal and hopefully get a job waitressing. While there she is surrounded by the three gorgeous owners who seem to be a little too interested in her. The brothers Jake, Greg, and
Devon Domain knew instantly that Keira is their mate, but also that she is hiding something from them. They set out not only to find out just what Keira is running from, but to woo her into their beds and hearts.
Keira is a woman with a troubled past and because of that has a hard time trusting people, but with the help of her mates she soon grows into the confident and strong woman she was always meant to be. I liked seeing how she dealt with these situations and how she slowly learns to not only trust, but love again.
The three brothers Jake, Greg, and Devon are sexy as sin and each have their own unique personality. I loved seeing how each of these men worked together to protect and woo the woman they all loved. Each of them are endearing in their own way and I loved getting to know each of them.
I highly recommend this to anyone who loves ménages and a great romance.