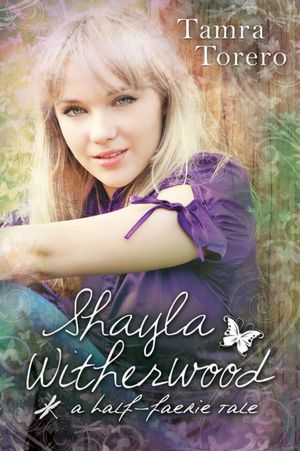 Title: Shayla Witherwood: A Half-Faerie Tale
Author: Tamra Torero
Publisher: Cedar Fort


Rating: 4 stars


Source: Netgalley

Synopsis:

Shayla Witherwood has never been like other girls. Being a half-faerie will do that to you. But with magical powers like invisibility, shape-shifting, and healing kisses, high school is bound to be anything but boring. Throw in an ancient prophecy that is sure to get someone killed and a few unpredictable enchantments, and you have one of the most anticipated faerie tales of the season.
My Thoughts


Step into a world where faerie's exist and high school is still the biggest obstacle.
This was a wonderful coming of age story with a magical twist to it. The beautiful imagery and descriptive wording transports readers into a world similar and yet different than their own.

Shayla is a young girl who not only has to deal with her unusual powers, but the pressures of high school. I really enjoyed getting to know her she was a sweet character and I understood much of what she was going through. I had a great time reading about Shayla's journey and seeing how she handled all of the new changes in her life as well as seeing how much she grew.

This is a fairy tale for all ages that fans of fantasy will really enjoy!