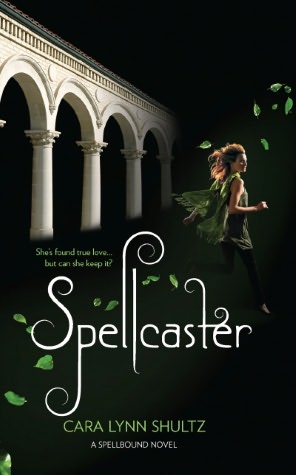 Title: Spellcaster
Author: Cara Lynn Shultz
Publisher: Harlequin Teen
Rating: 5 stars
Source: Netgalley

Synopsis:
After breaking a centuries-old romantic curse, Emma Connor is (almost) glad to get back to normal problems. Although…it's not easy dealing with the jealous cliques and gossip that rule her exclusive Upper East Side prep, even for a seventeen-year-old newbie witch. Having the most-wanted boy in school as her eternal soul mate sure helps ease the pain—especially since wealthy, rocker-hot Brendan Salinger is very good at staying irresistibly close….

But something dark and hungry is using Emma's and Brendan's deepest fears to reveal damaging secrets and destroy their trust in each other. And Emma's crash course in überspells may not be enough to keep them safe…or to stop an inhuman force bent on making their unsuspected power its own.
My Thoughts
Who would have thought finding your soul mate would be the easy part.
This was a suspenseful new novel that will leave you hungry for more. The imagery was perfect and helped to set the mood for the entire story. It was a very easy story to get lost in and I can't wait to see the rest of the series.
It's tough going through high school and discovering who you are, but things get a lot worse when you are a newbie witch. I liked Emma as a character and really got attached to her by the end of the story. Even though she has powers some might envy she still deals with many of the same situations other teenagers do and learns from those experiences.
I highly recommend this spell binding read to fans of paranormal romance.