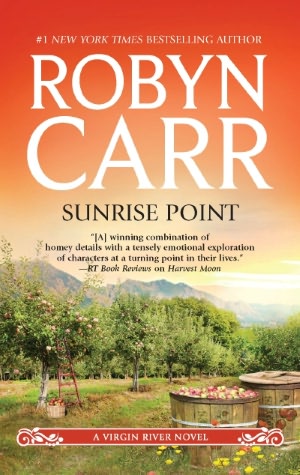 Title: Sunrise Point
Author: Robyn Carr
Publisher: Mira
Rating: 4 stars
Source: Netgalley

Synopsis:
Former marine Tom Cavanaugh has come home to Virgin River, ready to take over his family's apple orchard and settle down. He knows just what the perfect woman will be like: sweet, decent, maybe a little naive. The
marrying
kind.
Nothing like Nora Crane. So why can't he keep his eyes off the striking single mother?
Nora may not have finished college, but she graduated with honors from the school of hard knocks. She's been through tough times and she'll do whatever it takes to support her family, including helping with harvest time at the Cavanaughs' orchard. She's always kept a single-minded focus on staying afloat…but suddenly her thoughts keep drifting back to rugged, opinionated Tom Cavanaugh.
Both Nora and Tom have their own ideas of what
family
means. But they're about to prove each other completely wrong.…
What you get isn't always what you wanted, but sometimes it's what you needed.
As always the Virgin River series is chock full of memorable characters and Sunrise Point definitely lived up to that expectation. The storyline was sweet and full of lessons on life and love that will have you thinking about it long after the stories over.
Tom is opinionated, stubborn, loyal, and the sweetest man you will ever meet. I loved getting to know him as well as Nora especially when they were butting heads. These two were perfect for each other and I couldn't get enough of them. Nora has many of the same traits as Tom, but because of her tough life she learned her lessons the hard way.
I recommend this story to anyone looking for a touching story and a sweet romance.