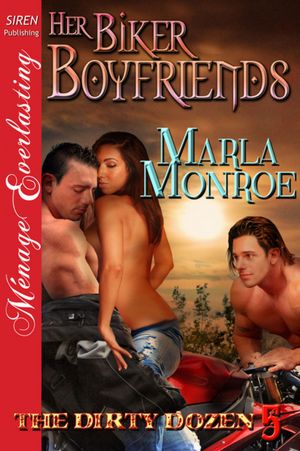 Written for The Romance Reviews
Title: Her Biker Boyfriends
Publisher: Siren Publishing
Rating: 3 stars
Source: Review Copy

Synopsis:


Carly likes life on the wild side and agrees to a ménage with Ranger and Drew. The guys realize they feel something strong for Carly, but aren't sure if she feels the same way. Ranger thinks she won't go for a three-way relationship because of her career and urges Drew to pursue her on his own, but Drew is having none of that. He wants it all. They take a long weekend trip together to Austin to explore her
comfort with being seen with two men and find that she's fine with it. But just as they begin to hope things will work out, word gets back to her bosses that she's in a threesome relationship. They threaten to fire her. Carly loves her career as a dental hygienist. Is the love of two men enough, or will she choose her career over love? Note: There is no sexual relationship or touching for titillation between or among the men.
What's sexier than a Biker? That would be two of them.
Carly is the adventurous type so when she was asked out by two very attractive men, she accepts thinking it would be a great experience.. Unfortunately one night of fun turns into a whole mess of trouble when her bosses find out. Drew and Ranger are both very interested in Carly, but fear she isn't too into a ménage a trois. As the guys try to find a way to convince Carly to consider both of them they are thrown a few obstacles along the way.
I found this to be an interesting and fun read. I liked the fact that the story explored some of the complications that could arise from this type of relationship and the different personalities would relate to one another.
Carly was very outgoing and fun to get to know as a character. I believe she was a great match for these two polar opposites.
Ranger was the strong silent type and was easy to misunderstand, but eventually he was able to show more
of his emotions when it came to Carly.
Drew was the sweetheart and you couldn't help, but love him. He was perfectly balanced out by Ranger because of his sweet nature and Ranger's more domineering tendencies.
This was a fun and steamy read that I would recommend to any fans of Menage's.