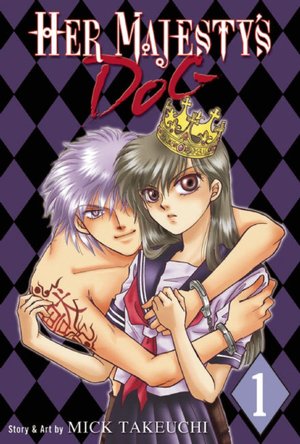 Title: Her Majesty's Dog Vol. 1 (v. 1)
Author: Mick Takeuchi
Paperback: 200 pages
Publisher: Go! Comi (October 1, 2005)


Rating: 4 stars


Language: English
ISBN-10: 0976895730


Synopsis:

Amane's not like other girls. With her ice queen demeanor and naiveté, she's become quite the misfit on campus. Even more unusual is her relationship with fellow transfer student Hyoue Inugami, the hottest guy in school. But the truth is that Amane is a powerful psychic and Hyoue is her guardian demon-dog, whose powers are fueled by her kiss! And when Amane lets her "dog" off his leash, no vengeful spirit is safe!

Buy Links
My Thoughts
This was a really cute and interesting story that I highly enjoyed.
The art was ok, but the characters were what really kept me interested. I was able to relate to a lot of the characters from this story and even though this has a lot of paranormal aspects to it I think it really shows a lot of the things that teenagers go through, especially in high school.
I also liked the fact that whenever it started to get a bit too serious the Mangaka (sorry if I spelled that wrong) always found a way to the lighten the mood and had me cracking up laughing.
Amane is a confident and strong girl who I enjoyed getting to know. I could really relate to how she felt at times and admired her courage.
Hyoue is the character that really made the manga for me. He is just so hilarious without even trying to be. I also enjoyed seeing how he got along with Amane and I can't wait to see how their relationship will continue to develop in the next volume!