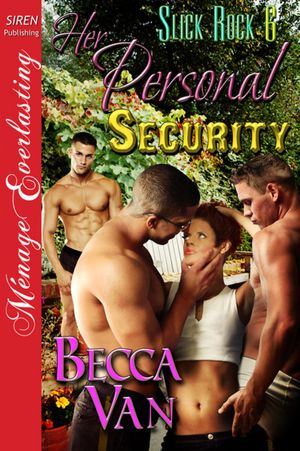 Title: Her Personal Security
Author: Becca Van
Publisher: Siren-Bookstrand
Rating: 5 stars
When Stacey Moreno goes undercover on Evergreen Island, she's looking for answers to a friend's mysterious death, not trouble. After all, Stacey's not adventuresome--she lives vicariously through her cartoon creations and can't tell left from right. But from the moment she moves into spooky Redfern Manor and meets her sexy new boss, trouble starts and sparks fly.

Hobbled by injuries from a plane crash, former journalist Mack Warren came to Redfern Manor looking for escape, not romance. He intends to focus on the biography he's writing of the manor's former occupant and ignore the strange feelings his lively new assistant inspires.

As Stacey digs for answers, she's drawn to her mysterious boss, but he is obsessed with a ghost. With danger drawing near, can Stacey persuade Mack to face the shadows from the past that threaten to destroy their future?
On the run and fighting for your life the least thing you would expect to find is love, but that's exactly what happens to Kayli.
Kayli is on the run from two men who want her dead. Luckily for her she has run into three of the toughest and sexiest ex-cops she could find. The three brothers Giles, Remy, and Brandon Alcott realize almost immediately that she is the woman for them. After discovering the danger she is in they become very protective of her and do whatever they can to keep her safe. Unfortunately the men after her find a way to kidnap her and now it is up to them to get the woman they love back.
I absolutely adore Becca Van's books and this one was no exception. Her world was fun and adventurous just like her characters and the fast paced environment really sets the mood for her characters.
Giles, Remy, and Brandon are have different personalities that all complement each other and as always I loved getting to know each and every one of them. These ex-cops know how to handle their weapon's and women. The interaction between them and Kayli was great to read and had me laughing and fanning myself at times in the same sentence.
Kayli was no pushover and I really liked this about her. She was a strong heroine and knew how to take care of herself, but she also knew when to ask for help. I really admired that about her because I believe sometimes asking for help is the hardest thing a person can do.
I recommend this book to all fan's of Becca Van and those who love a lot of action with their ménages.