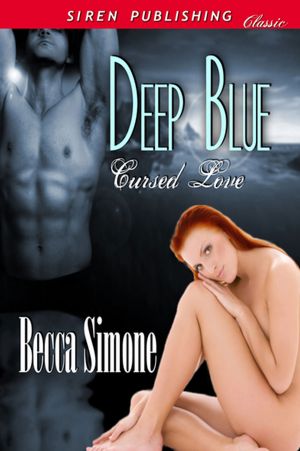 Title: Deep Blue
Author: Becca Simone
Publisher: Siren Publishing
Rating: 5 stars
Source: Review Copy

Synopsis:


Under the light of a full moon and lurking in the restless waves of the deep blue sea, someone or something watches a ship cutting through the dark waters. Insurance fraud investigator Kate Hargrove is looking into the disappearances of women from a
cruise line
. She soon "disappears" herself when pulled undersea by a giant sea creature. Now, this beauty is trapped beneath the sea with a desperate beast. One hundred years ago, Thaddeus Ryker was cursed and banished to the ocean depths. He has only three more days to find someone to love him in his monstrous half man–half sea creature state, or he'll spend eternity as a monster of the sea. When her terror subsides, Kate realizes she's both attracted to and repulsed by Thaddeus. As she gets to know him, she discovers a sexy, haunted man. Can she learn to love him—a monster—in just three days?
Fall in love in the Deep Blue.
This was a beautifully written and mysterious new story that will leave you wanting more. The imagery was creative and gave you the sense that you there right with Kate.
Kate was on a mission to solve a mystery and was surprised to find herself falling in love with the answer.
She was a tough investigator who knew how to get the job done, but beneath that she had a heart of gold which is just what
Thaddeus needed.
Thaddeus is a mysterious beast who has been trapped beneath the sea for over a hundred years and Kate is his last hope to be free. The relationship between these two was sweet and sexy. I had a great time getting to know more about Thaddeus and really enjoyed this romantic tale.
I highly recommend this to anyone who loves stories with Beauty and the Beast themes and/or sexy beasts.