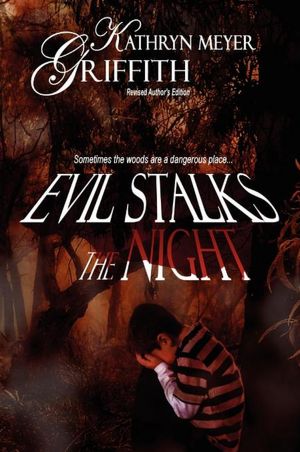 Written for The Romance Reviews
Title: Evil Stalks the Night
Author: Kathryn Meyer-Griffith
Publisher: Damnation Books LLC
Rating: 5 stars
Source: Review Copy
Synopsis:
Twenty years ago psychic Sarah Summers fled from the evil that lurked in the woods behind her childhood home after it killed most of her family, but a nasty divorce and financial hardships forced her back when nothing else could have. With her son, Jeremy, she returns to her grandmother's dilapidated house and tries to
begin
a new life. She meets a police detective, Ben, who falls for her, and she prays her fresh visions of bloodshed and death deep among the dark trees are not true.
Then the murders begin again and Sarah is hurtled back into the familiar nightmare that has haunted her her whole life. The evil in the woods is awake again…and this time it wants her last remaining brother, Jim; her son…and her. With Ben and Jim's help can she defeat it this time…and live?
Buy Links
My Thoughts


Evil lurks just beyond the shadows and soon Sarah will no longer be able to run.
Sarah Summers lost her family so long ago to an unknown evil that haunts her to this day. Now she just wants to forget and make the best of her future with her son. Financial hardships and a divorce forces her to go back home to the nightmare she once knew. At first things go well she even meets a police detective named Ben who falls for her. However, it doesn't take long for fresh visions of bloodshed and death to appear and she prays that they will not come to pass. No amount of praying works and the murders begin again now she must fight for not only her life, but the life of her only remaining brother and son. With the help of Ben and her brother Jim will she make it out alive?
This hauntingly thrilling story had me on the edge of my seat and anxiously anticipating each turn of the page. The chilling descriptions and frightening scenes make this story a must read for lovers of murder mysteries.
Sarah is a brave and strong willed mother who has been through a lot, but endures to protect the ones she loves. I liked getting to know her more and really felt for her when everything came crashing down. She grew so much throughout the book and I really admired her for it. Facing your fears is no easy task and yet she did it to save those that she loved most.
Ben was a sweet man and I liked him. The fact that he was willing to help Sarah in her darkest time really showed how brave and noble he could be.
I highly recommend this story to anyone who would enjoy a frighteningly chilling story of a mother's love and facing your fears.