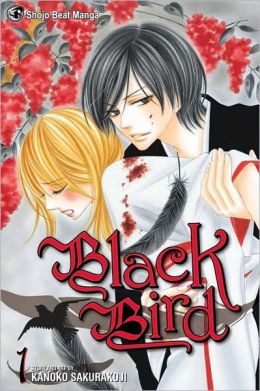 Title: Black Bird
Author:
Kanoko Sakurakoji
Publisher: VIZ Media LLC
Rating: 5 Stars
Source: Bought

Synopsis:
High school is hard enough, even under the best of circumstances. Misao Harada would love a normal high school life, but she has been burdened with the sight since childhood—a gift that allows her to see a world of myth and magic that surrounds ours. Lonely and somewhat mournful, Misao finds her world turned upside down when she reconnects with her childhood friend and first love Kyo and finds out that he is the head of a demon clan. As luck would have it, Misao is the bride of prophecy whose blood gives power to the demon who claims her. While other demon clans target her intending to consume her power, Kyo gives her the choice to become his bride and enjoy his
protection
. The tension between the two characters as they stave off supernatural forces is intriguing, and readers will no doubt long for Misao to become Kyo's bride. Sakurakoji's art is very romantic and the characters are almost painfully beautiful; fans will have no difficulty falling for Kyo's good looks and charm.
My Thoughts
All she wanted was a normal life, but fate had other plans.
I love this series. The setting is beautiful and all of the characters so unique. None of them are perfect, but they do the best they can with what they've got. This story is just plain fun and addicting. The lead character isn't overly cheerful and in fact is pretty average if it wasn't for her unusual ability to see spirits. Misao is a girl who has always longed for a normal life with her loved ones, but she doesn't get depressed and weepy.
Instead she does her best to bear it and tries to rely on her own ability to gain happiness. She does falter at times, but I love that she isn't perfect and can have a bit of a selfish side to her. It shows that she is human. I love the dynamic between her and Kyo they are so great together. Even though Misao can be a bit naïve when it comes to Kyo she doesn't let him push her around.
Kyo is a sweet guy, but he does have a tendency to love to tease Misao. I find it nice that although he wants to protect her he doesn't treat her like she is a china doll that could easily break. He tells her straight out what's going on and allows her to make her own decisions.
Aside from all the seriousness the story is full of hilarious antics that the characters get into and had me cracking up a lot. It gave us a nice relief so it wasn't overly serious. I can't wait to see what else is in store for Misao and Kyo.