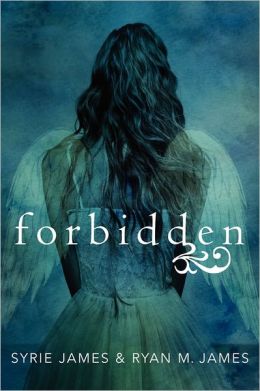 Title: Forbidden
Author: Syrie James and Ryan M. James
Rating:

5 Stars
Source: Bought




Synopsis:




She should not exist.

He should not love her.

Claire Brennan has been attending Emerson Academy for two years now (the longest she and her mom have remained anywhere) and she's desperate to stay put for the rest of high school. So there's no way she's going to tell her mom about the psychic visions she's been having or the creepy warnings that she's in danger.

Alec MacKenzie is fed up with his duties to watch and, when necessary, eliminate the descendants of his angelic forefathers. He chose Emerson as the ideal hiding place where he could be normal for once. He hadn't factored Claire into his plans. . . .

Their love is forbidden, going against everything Alec has been taught to believe. But when the reason behind Claire's unusual powers is revealed and the threat to her life becomes clear, how far will Alec go to protect her?

Buy Links



My Thoughts
I picked this book up at Barnes and Noble intending to give it a try and even though I was a little hesitant at first I was so glad I did.
I adored how they put the fun spin on angels in this book. It was unique and mysterious (just like angels). The authors put together the Grigori world very well and gave us just enough information to keep me excited without letting me know too much about what was going to happen.
Claire was a well written and likeable character. I liked that she didn't always have angelic powers and gracefulness because she was a sweet young girl who was used to working for what she wanted and not just having everything handed to her. Even after experiencing some her crazy new talents she did her best to use them for good.
The secondary characters in this book were some of the best I have ever read about. Claire is lucky to have two of the coolest friends ever, Brian and Erica. They both were quirky, funny, and handled a crisis well. Which was good since there was a lot of them this year. I also liked that they were not clueless the entire time.
Claire couldn't hide from her best friends. It was easy to see that all three of them had a strong bond. Brian was great at putting some humor into any situation and Erica new just what to say to make Claire feel better. I would love to have friends like these in my life.
Alec wasn't a brooding hero which was refreshing. He actually had a sense of humor and was really interesting to learn about. He and Claire had real connection that was really sweet. I also liked that even though he was super human in many aspects he also had very human moments. He embarrassed himself, made mistakes, and was afraid of many of the things teenagers are. It made him more relatable and I liked seeing that side of him.
After finishing this book I couldn't help, but be excited for a possible sequel. There are still so many questions I have and I hope that one will definitely be made in the near future.
This is highly recommended to everyone who likes a good paranormal romance!