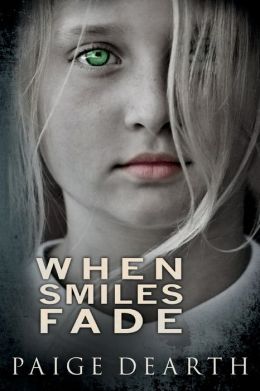 Title: When Smiles Fade
Author: Paige Dearth
Rating:

5 Stars
Source: Bought
Synopsis:
Emma was unloved from the moment she was born. Her earliest memory is being severely beaten by her father, Pepper Murphy, when she was just eight-yearsold. Seething with resentment over the sacrifice of his dreams for a woman he cares little about and children he never wanted, Pepper chooses to blame his older daughter. Her mother, Valerie, makes matters worse with her verbal abuse, leaving Emma isolated with a man that had no boundaries in punishing his daughter, taking his abuse to unimaginable levels. Emma's father's coldblooded beatings and the ultimate abuse to which he subjects her, lays the foundation of the person she becomes. As she matures into a resourceful teenager, she is unwilling and unable to stifle her desire for revenge. Reaching her breaking point she can no longer control the impulse to fight back and finally takes matters into her own hands. Having learned the art of hatred from her father and the mastery of manipulation from her mother, young Emma now sets out to make a better life for herself, leaving the memory of the abused child she had once been behind her. Hardened by the heartless brutality she encounters and the dangerous situations she must overcome in the
course
of her journey, she faces every challenge that comes her way in her quest for a normal life for herself and for those she loves. Finally a person emerges from within that guides her toward a better life until she learns of a secret that sets her on the path of ultimate redemption.
Buy Links
My Thoughts
A poignant story that will have you thinking about it long after the last page has been turned.
This author has a way of writing that really gets you into the book and makes you feel as if you are right there with the characters. The story is a touching and powerful tale about abuse and its effects. How one girl deals with her life and her journey to a better one.
The imagery was fantastic and gave life and richness to the story. Adding to the effect and bringing out the emotions of the story. At times I was brought to tears and overtime I grew very much attached to Emma. She was a very memorable character.
Emma has held a harsh life. One that sadly many children face in this world and seeing her battle on in the face of such desolation made me respect and admire her. She was hardened by a life of misery, but was still able to keep going and that takes real strength.
This story is not a pretty one, but it leaves a lasting impression. It has a lot of depth and is packed with emotion. You will not be able to put it down.