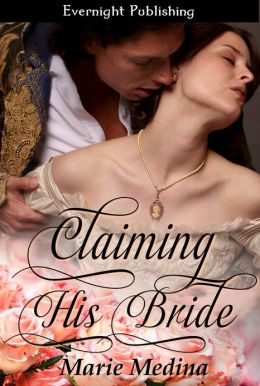 Written for The Romance Reviews

Title: Claiming His Bride
Author: Marie Medina
Rating: 4

Stars
Source: Review Copy

Synopsis:

Victoria cannot even muster a smile on her wedding day. Her groom is handsome, titled, and wealthy, and her marriage will save her family from financial ruin, but she is still saddened when she contemplates the long, loveless years ahead of her.

Bastian never intended to marry, but he gives in to his father's scheme because the more he thinks about the bride, the more he wants to capture her heart. He sweeps her into his arms at the reception, determined to make her smile and laugh, though he only manages to make her blush and stare at him incredulously.

Was he wrong to believe he could turn a marriage of convenience into a love match? Or does another man already hold the heart of his reluctant bride?
My Thoughts
Can a marriage of convenience become a marriage of love?
Victoria has always dreamed of marrying for love, but because of her sister's antics she has now become the new bride of a man she barely knows on a very short notice.Bastian was never interested in becoming married, but when he learns the bride has been changed to the sweet Victoria he gives in and decides to give it a chance. In an attempt to turn a marriage of convenience into a love match he does his best to get to know and allay the fears of his new bride, but no matter what he does she shies away. Is it possible her heart was captured by another already? How does Bastian feel about this?
This isa fun and sweet story that had me laughing and smiling the entire time. The setup for this story was interesting and creative.
What I liked most about the story was that even though neither wanted to be put in this situation they both tried to make the best of it. Usually one or both of the character's fights tooth and nail,

but instead these two looked on the bright side of things and ended up finding their own happiness which was a nice change.
Victoria is a bit shy at first, but as she grew used to Bastian some of her more assertive nature came to the forefront. She was an interesting character and I really enjoyed getting to see how her marriage to work out.
Bastian was the perfect match for Victoria and I liked how he teased her getting her to smile not matter the situation. He was fun and a real joy to be around so I could see how he was able to bring Victoria out of her shell. He could be a bit bullheaded as Victoria pointed out to him, but instead of being outright annoying it was actually kind of charming.
This is a fun short read that I would definitely recommend.