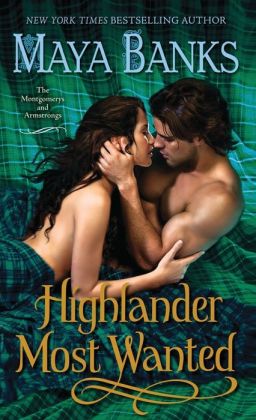 Title: Highlander Most Wanted
Author: Maya Banks
Rating: 5 Stars
Source: Review Copy, Netgalley

Synopsis:
Genevieve McInnis is locked behind the fortified walls of McHugh Keep, captive of a cruel laird who takes great pleasure in ruining her for any other man. Yet when Bowen Montgomery storms the gates on a mission of clan warfare, Genevieve finds that her spirit is bent but not broken. Still, her path toward freedom remains uncertain. Unable to bear the shame of returning to a family that believes her dead or to abandon others at the keep to an imposing new laird, Genevieve opts for the peaceful life of an abbess. But Bowen's rugged sensuality stirs something deep inside her that longs to be awakened by his patient, gentle caress—something warm, wicked, and tempting.
Bowen seizes his enemy's keep, unprepared for the brooding and reclusive woman who captures his heart. He's enchanted by her fierce determination, her unusual beauty, and her quiet, unfailing strength. But wooing her will take more than a seasoned seducer's skill. For loving Genevieve, he discovers, means giving her back the freedom that was stolen from her—even if it means losing her forever.
My Thoughts
Sometimes love blooms when we least expect it.
This author is superb at setting the mood of a story through her descriptive language and beautiful imagery. The first words that come to mind when I think of a Highlander are rugged, deep, and dangerously beautiful. These words not only describe the hero of our story, but the landscape as well.
The heroine has to face pure evil everyday in the form of her captor, a cruel laird who takes great pleasure in her pain. She is basically treated as nothing more than an animal and a hated one at that for over a year.
What really got to me was that despite all of her mistreatment her will was strong as ever. Her body may be broken, but never her spirit. Genevieve really made the story for me and my heart went out to her. Seeing her finally gain her freedom was one of the highlights of this book.
Bowen never intended to fall in love, but that is exactly what happened. Meeting Genevieve changed him and he never wanted to let her go. I really liked his character. He wasn't the traditional Prince Charming and definitely had his less than charming moments, but he was there for Genevieve when she needed it the most. He was patient and kind which is exactly what Genevieve needed. I also didn't fail to notice the amount of chemistry between these two.
This story will put you through a roller coaster of emotions and make you believe in the power of love.