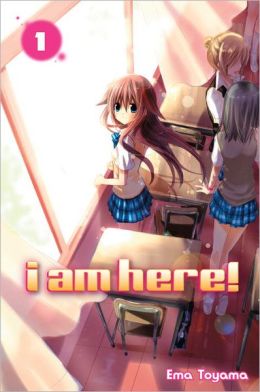 Title: I Am Here!
Author: Ema Toyama
Publisher: Del Rey
Rating: 4 Stars
Source: Bought
Synopsis:
A SUNFLOWER IN THE SHADE
Invisible to her classmates, Hikage Sumino is an eighth grader with no self-esteem. Her only friends are the visitors to her Internet blog. One day, the most popular boy in the
grade
suddenly talks to her. Encouraged by this twist of fate, Hikage determines to transform her life.
Buy Links
My Thoughts
Friends come in all shapes and sizes and some may even be closer than we think.
This was a cute story about a shy girl finding hope from an anonymous friend and learning to love herself. The relationships in this story were the center point. They were not forced and the feelings of sadness, loneliness, excitement, and happiness were very real and could be felt by the various characters as well as the readers themselves.
The characters were fun and lighthearted. I was smiling throughout the entire story. Hikage was a sweet, but shy girl. I really felt for her and even though she didn't always show it she was very passionate especially about her photos. I liked seeing how she grew throughout the story and how she slowly, but surely made new friends that helped her along the way.
I found her online friend the Black Rabbit who was a source of inspiration and encouragement for Hikage to be very interesting. I couldn't help, but wonder who he/she was and if Hikage would ever meet them. The Black Rabbit wasn't the only online friend she had, but was certainly the most prominent and mysterious.
This was a lovely story that I believe would be enjoyed by all ages and I would highly recommend it to all those shojo manga fans out there!