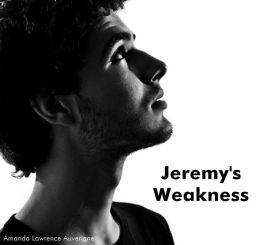 Title: Jeremy's Weakness
Author: Amanda Lawrence Auverigne
Rating: 4 Stars
Source: Review Copy

Synopsis:


Jeremy is a brilliant university student. He is also a hardcore gamer with a popular channel on YouTube that he shares with two friends.
However, Jeremy is hiding a dark secret.

What can you do when the thing you fear the most can kill you?


Parental Warning: This eBook contains material that may not be suitable for younger readers aged 17 and under.
Contains harsh language, mature themes and graphic violence.
Parental discretion is advised
My Thoughts
A terrifying thriller that will pull you in and never let go.
This story was exciting and fast paced. The whole story gave off a creepy vibe from the descriptive language to the familiar online world where Jeremy spends much of his time. The big draw to the story was the mystery surrounding Jeremy and what exactly the danger that follows him is.
I really enjoyed this story and had fun getting sucked into Jeremy's life while trying to figure out what was really going on. The setting was perfect as well as his gaming life because it resembles the life of many students today and makes it seem much more believable.
Jeremy has a mysterious secret, but other than that he is a pretty normal student. He is really relatable and interesting. His story was captivating and terrifyingly believable.
I would recommend thriller fans to check this out ASAP!