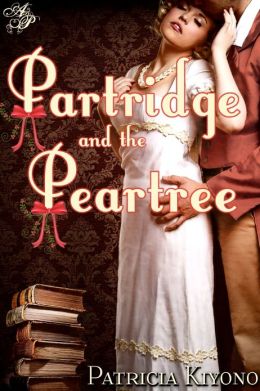 Written for The Romance Reviews

Title: Partridge and the Pear Tree
Author: Patricia Kiyono
Rating: 4 Stars
Source: Review Copy

Synopsis:
Phillip Peartree, Duke of Bartlett, dreamed of a peaceful life with a suitable mate until a hunting accident left him scarred and nearly deaf. Resigned to spending the rest of his days alone, Phillip has devoted himself to rebuilding his family estate. But, a chance encounter with a lovely young woman in a dusty bookstore rekindles his almost-forgotten hopes and dreams.
Lady Amelia Partridge has no time for the frivolity of the London social scene. She is much too busy. In addition to her work with the Ladies Literary Society, she has a mission – ed-ucating poor children in the city. She also has a secret life, one she fears might drive away the young duke who has become increasingly important to her.
My Thoughts
The Duke Philip had always dreamed of settling down with a good woman and living a peaceful life, but a hunting accident shattered that dream. Scarred and nearly deaf he is resigned to spending life alone, but hope shows up in the form of Lady Amelia. She is hard worker with no time for frivolities. She spends most of her time educating the poor children in the city. The rest of her time is spent in secret. Unfortunately it's a secret that she believes will drive Philip away no matter how interested in her he is.
The story is a one of hope and seeing past the surface of others to see the real beauty within. This is a beautiful romance that will have you turning each page in anticipation. It's a fast paced and heartwarming read that romance fans will not want to miss.
Amelia is a responsible and warmhearted young woman who truly deserves a happy ending. She does everything she can to help those in need, especially the children. She also helps to spread the love of reading to everyone around her and strives to make the world a better place.
Philip is a really sweet man who was losing hope, but meeting Amelia changed that. It was nice seeing him open up to her and fall in love with her for who she truly is. I also liked seeing him learn something new and also try his best to help out those who are in need. Seeing him with the children was so sweet!
A sweet romance that will warm you heart.