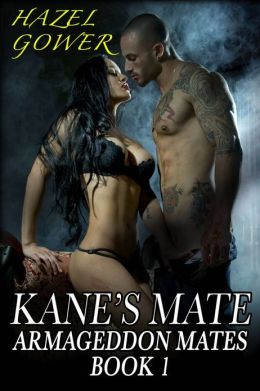 Title: Kane's Mate
Author: Hazel Gower
Rating: 5 Stars
Source: Review Copy
Goodreads:
Faith's life has always balanced in two worlds—the normal human world and the supernatural. Now she has to choose between the two.

Faith York is human, but she has psychic powers, which is a little odd since neither of her parents have paranormal abilities. Thankfully, the werewolf family who lived around the corner help her learn to control her powers. She instantly fell in love with the entire family, but especially Kane, the oldest son who is next in line to be Alpha. Unfortunately, Kane doesn't see Faith the same way she sees him. Heartbroken, she leaves town.

When Faith returns from two years overseas, her parents throw her a welcome home party. Faith is shocked when Kane kidnaps her from the party and mate marks her. Now she struggles with the choice of whether to leave again and live a normal life—a life she yearns for—or stay with the man she's always dreamed of and live a supernatural life.

To complicate matters further, her psychic powers intensify and she begins to have visions of an upcoming demon Armageddon. Then she learns she was switched at birth, and she has a half-brother…who is half demon.

Faith must be stronger than she ever believed possible, and maybe in the process, she can trust herself to give Kane another chance.

Content Warning: Sexy werewolf alpha, graphic sex, strong language, and violence
Buy Links
My Thoughts
Heart pounding romance
Faith has always been a bit different. Unlike her family she has psychic powers that she had to learn to control from a young age. It was a good thing the local werewolf family stepped in to help her. She grew to love everyone in the family, but loved the eldest son Kane most of all. Unfortunately he never saw her as anything, but a friend.
After spending two years overseas she is happy to be home again and celebrates with her parents the family she grew to love. She is surprised however when Kane kidnaps and then mates her. To make it worse she has recently had visions of an upcoming apocalypse. Now she must come to terms with becoming Kane's mate and find a way to stop a demon Armageddon.
A fast paced plot and a whirlwind of emotions keeps readers on their toes in this thrilling romance. I was hooked from page one and couldn't put the book down.
The romance was hot and wild. I loved the chemistry between Kane and Faith and really felt the connection between them. They were a bit stubborn though, especially at the beginning. This stubbornness tended to cause some problems, but putting two strong willed people like these two together also made for some fun heated moments between the two.
There was also a great deal of mystery and action in this story as we find out that Faith has a long lost brother who is half demon. I really liked the way the author introduced this aspect into the story.
The Visions that Faith was having were descriptive and yet the still kept you guessing. Sometimes they brought out more questions than answers leaving the characters struggling to find a way to stop the terrible fate. I loved the many twists and turns this story took and can't wait to read more of this amazing series.
I also loved the diverse amount of characters in this story. Faith was strong, vibrant, and fun loving. I really felt for her at the beginning. It's not easy being in love with someone who you believe could never love you back.
Kane was an Alpha all the way and knew how to get what he wanted. I really enjoyed learning about Kane's character. He is really tenderhearted and protective of the ones he loves. I was a little annoyed at how thick headed he could be sometimes and so was Faith, but I guess that was part of his charm.
Kane's brothers were also a lot of fun and I hope to see more of them in future books! I think Jamie was my favorite though. He was so sweet and I loved how even after he found out Faith was Kane's mate he still loved and wanted to protect her.
This is a thrilling romance that will keep you on your toes!
About the Author
I'm a mother of four terrors between the ages of two and seven. In my spare time, the little I have, I write and take off into my own worlds. As a child, I spent a lot of time
in my own dream world. I even had an imaginary friend. In primary school I would constantly make up stories, which got me into lots of trouble. My Mother said I always had an overactive imagination.
I started writing down my story ideas in high school, and never really stopped.
Writing, I have to say, is my salvation. After I've gotten all the kids in bed and have cleaned up, I sit at my computer or sometimes a notebook with a pencil and relax, write, and escape. I decided to finally submit my work after a friend said I should stop being a coward and submit something, live the dream.
So here I am.
I am a member romance writers of Australia, romance novel center.
I love to hear from any of my readers, so feel free to send me an email and like me on Facebook.