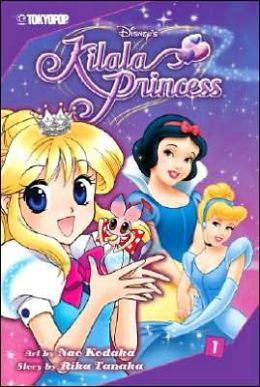 Title: Kilala Princess
Author: Rika Tanaka
Publisher: TokyoPop
Rating: 4 Stars
Source: Bought

Synopsis:
When Kilala awakens a sleeping prince named Rei, she magically gains the
power
of the princesses! But her friend Erica is kidnapped, so she and Rei must set off on a quest to rescue her! Filled with the most popular Disney princesses—Ariel, Cinderella, Jasmine, Snow White, Belle
Buy Links

A whole new world of adventure and romance!
This book is basically my childhood dream in print form. Getting to go on an adventure filled with all of my favorite Disney characters not to mention getting the chance to become a real princess myself. This book will definitely appeal to the younger audience and to those of us who are still children at heart.
There was tons of whimsy and a bit of mystery, but what I loved the most was the spunky heroine and her banter with the kind and yet annoyingly charming Rei. These two really made the entire story.
Kilala is sweet, fun loving, quirky, a bit stubborn, but most of all loyal to the end. She would do anything for her friends and always tries to do the right thing even when it isn't always the easiest way. She is a great character who would make a great friend.
Rei is a bit of a smart aleck, but he knows when to admit he is wrong and sticks up for his friends.
This is an exciting adventure that I recommend to anyone who enjoys fairytales and/or Disney.