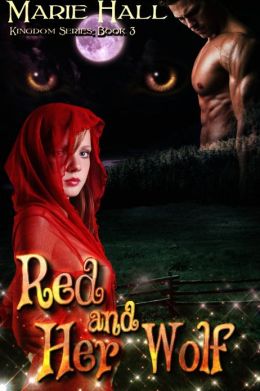 Title: Red and Her Wolf
Author: Marie Hall
Rating: 5 Stars
Source: Bought
Goodreads:
Long ago there lived a beautiful child. Her name was Violet. Fair of skin, with blonde hair and large blue eyes. Born of wild magic, she was a woman with a child's heart. Innocent and lovely, but not at all what she seemed--you see Violet went by another name: The Heartsong.

She was the child of fairy magic, the physical manifestation of all fae kinds unbridled power. Cosseted and pampered, she grew up in isolation, never knowing who she really was, or why there were those who'd seek to harm her.

Ewan of the Blackfoot Clan is a wolf with a problem. He's been sent to kill the Heartsong, but the moment he lays eyes on the blonde beauty he knows he'll defy the evil fae he works for to claim Violet as his own.

This is the tale of Little Red Riding Hood and the Big Bad Wolf, as it really happened.
Buy Links
My Thoughts
These aren't the fairytales you were told as a child.
Dark and utterly compelling Marie Hall's Kingdom series has captivated me from the start. As soon as I found out about Wolf's story I was instantly intrigued. Little Red Riding Hood has always been one of my favorite fairytales so I really wanted to Wolf's (Ewan) story. I was not disappointed!
The twist she put on this tale was imaginative and I was extremely excited to see Violet, who portrayed Red, not as some scared little girl, but a kick butt heroine. The world building was beautiful and very descriptive. I am continually being surprised every time I read one of these books as we get to know more and more about the different lands in this world. Although Violets's world was a little more dangerous than some it was also frighteningly beautiful.
The romance was done nicely and I liked how Ewan the wolf in this story was both hard and gentle at the same time. He respected Violet and did his best to protect her, but not lie to her. He didn't treat her as some ignorant girl who should do as she was told with no questions. He loved her attitude and all which was a good thing because after what she had been through Violet needed to learn to trust again.
Violet was a tough and independent woman who unfortunately had been lied to for most of her life. It is because of this that she finds it hard to trust anyone. However, despite her outward show of disinterest deep down she has a heart of gold. She also can't seem to help her frightening attraction to her new companion. Ewan was a mystery to her. She believed him to be a villain, but he had continuously shown her kindness and affection.
I highly recommend this dark new fairytale!