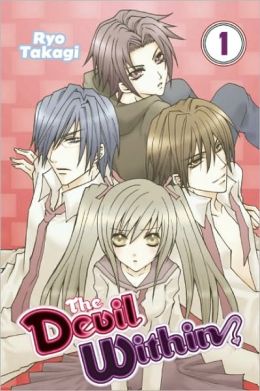 Title: The Devil Within
Author: Ryo Takagi
Publisher: Go! Comi
Rating: 4 Stars
Source: Bought

Synopsis:
Three angelic grooms. One reluctant bride. One devilish dilemma!
Rion's convinced that men are devils and only little boys, angels. And just when she's found the boy of her dreams, she finds herself forced into an engagement to a trio of suitors! While fighting off their advances and trying to win over the heart of her reluctant young love, Tenshi, she discovers the shocking secret of the handsome trio...and something sinister about herself!
My Thoughts
Outrageously funny!
When I first picked this up I was thinking that it was going to be about some kind of dark paranormal romance. While there are paranormal elements and it is kind of a romance, it is definitely not dark.
This book is pure comedy with a dash of romance. I think my favorite part of the story was the fact that none of the characters really took anything too seriously. There was not stop laughter and even a couple of sweet moments.
I also enjoyed the romantic elements too. At the beginning Rion isn't interested in any guy let alone her new fiancés. However, she immediately takes a shine to Tenshi her new neighbor. She is very fond of Tenshi from the first. Unfortunately he isn't very interested in her. I thought the budding relationship between these two opposites was very cute!
Tenshi is a fun character, but a bit arrogant. He is always talking about how he is annoyed by Rion, but we still find him doing whatever he can to help her.
The three fiancé's that Rion's dad picks out for her are all a bit intimidating, but each have their own quirk about them. For example Koki can be seen as cool and stoic, but we also see him at the beginning as a homeless man and later as a bit of a food maniac.
I can't wait to learn a little bit more about the other fiancé candidates and see where things go with Rion and Tenshi.