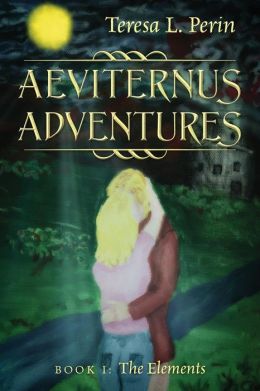 Title:
Aeviternus Adventures
Author: Teresa Perin
ISBN: 9781478701132
Publisher: Outskirts Press
Source: Review Copy
Rating: 4 Stars

Goodreads:
Evil is not always what it seems... Jillian has just finished her first year of college and figures she'll have a nice quiet summer back home on the family's goat farm. Those plans are forgotten, however, when she and her cat and goat are transported to the kingdom of Aeviternus, in an alternate world. She wants desperately to find a way back home and sets off in search of the one magician skilled enough to return her to her own world. She discovers the primal elements in this realm and encounters many different creatures along the way. She is befriended by twin clerics, but then she ends up in the hands of a sexual sadist and learns about the dark side of this land, it looks like she may be doomed. Her cleric friends rush to rescue her with the aide of two magicians. Will Jillian be able to get home? Will she find love in this brutal world? Or will she fall victim to evil? An erotic fantasy, The Elements is the first book in the Aeviternus Adventures series. It's non-stop action and adventure across the kingdom.
My Thoughts
Fall into a world of Adventure!

Beautiful imagery and a world filled with memorable characters. The world building was wonderful and felt very real. I could almost see myself in this new and strange world right along with Jillian, Bob, and Millie.

The romance was well paced and sweet. I liked that it wasn't the sole focus of the story thought it added to it without completely overtaking everything else.

Bob was Jillian's cat and once he was able to talk became the smart alec and wisecracking companion. He and Millie both brought a lot of comedy as well as friendship to the story.

Millie the goat was the loyal best friend who always made you smile. I really enjoyed her and Jillian's interactions. They were so funny and even though they were different species it was easy to see them as best friends who had known each other forever.

Jillian is your average college student. She was a very likeable character. Jillian is a brave and loyal friend who I could really relate to. She did get herself into a bit of trouble along the way, but she never gave up. She was also very friendly and outgoing. It was easy to see why she made so many friends along the way.

If your looking for an exciting adventure, look no further than Aeviternus Adventures. I'm excited to see what happens next in this series and can't wait for the next book!