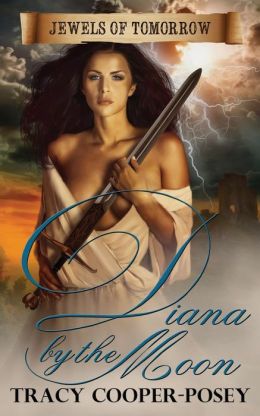 Title: Diana by the Moon
Author: Tracey Cooper-Posey
Source: Review Copy
Rating: 5 StarsGoodreads:
Diana—a fiery kitten of a Roman woman, who hides a terrible past and struggles to lead her people on a desperate quest for survival against famine and Saxon raids. She is unable to trust anyone.

Alaric—a proud Celtic warrior and trusted lieutenant to the upstart British leader, Arthur, who must overcome his hatred of Romans if he is to fulfill Arthur's ambitions in the north.

A haunting tale of two lives touched by the coming of King Arthur, and two hearts and souls struggling to come together against odds as great as those against Britain itself. Only together will they survive, or else be sundered forever.

Reader Advisory: This book contains references to rape in war.
Publisher's Note: This book was previously published elsewhere.
My Thoughts
When two mighty forces collide, chaos ensues.

This is an exciting story filled with intrigue, danger, action, and fiery passions. The war raging on between these two nations is violent and causing turbulent emotions within each nation's citizens, especially hatred. It seems highly unlikely for two people from opposing sides to fall in love, but their is a fine line between love and hate. The imagery and descriptions used in this book were detailed and yet she was able to handle more sensitive issues well without overdoing it. I loved the world building and the raw emotion this book evoked.
The characters were all well done and had tons of personality.
Diana is a fiery woman who dies what needs to be done. She is in a time of uncertainty and trusts no one. However, she does have a softer side which I liked. Diana is a fierce warrior and I really enjoyed getting to know her. She doesn't back down to anyone and her courage knows no bounds.
Alaric is just as fierce and proud. So when these two come together sparks fly. The romance in this story was handled very well and not overdone. I also liked that there was no insta love happening. We got time to see these two get to know one another and slowly, but surly build trust. I loved their interactions which were always passionate and interesting.
This is a book you won't want to put down!
Author
Tracy Cooper-Posey is an Amazon #1 Best Selling Author. She writes erotic vampire romances, hot romantic suspense, paranormal and urban fantasy romances. She has published over 50 novels since 1999, been nominated for five CAPAs including Favourite Author, and won the Emma Darcy Award.

She turned to indie publishing in 2011. Her indie titles have been nominated four times for Book Of The Year and Byzantine Heartbreak was a 2012 winner. She has been a national magazine editor and for a decade she taught romance writing at MacEwan University.

She is addicted to Irish Breakfast tea and chocolate, sometimes taken together. In her spare time she enjoys history, Sherlock Holmes, science fiction and ignoring her treadmill. An Australian, she lives in Edmonton, Canada with her husband, a former professional wrestler, where she moved in 1996 after meeting him on-line.