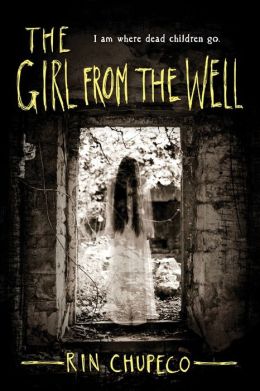 Title: The Girl from the Well
Author: Rin Chupeco
Publisher: Sourcebooks
Rating: 4 Stars
Source: Netgalley
Synopsis:
I am where dead children go.

Okiku is a lonely soul. She has wandered the world for centuries, freeing the spirits of the murdered-dead. Once a victim herself, she now takes the lives of killers with the vengeance they're due. But releasing innocent ghosts from their ethereal tethers does not bring Okiku peace. Still she drifts on.

Such is her existence, until she meets Tark. Evil writhes beneath the moody teen's skin, trapped by a series of intricate tattoos. While his neighbors fear him, Okiku knows the boy is not a monster. Tark needs to be freed from the malevolence that clings to him. There's just one problem: if the demon dies, so does its host.
My Thoughts
Bone chilling new story!
The setting for this story was very detailed and complemented the over all tone nicely. The detailed descriptions helped to set the mood and make Okiku seem more real to me. The setting was similar to the grudge and Okiku's agenda eerily similar, but the similarities ended there.
My favorite aspect of this book was that it was being told from the ghosts point of view. This made it all the more horrifying, but also gave us some more depth into the antagonist of the story. In ghost stories we rarely get to hear from the side of the monster. This was an intriguing new way to write a ghost story and give it real depth. I really enjoyed getting to see Okiku's point of view.
Tark brings even more drama to this vigilante ghost's dark world. It was interesting to see how this normally malevolent ghost dealt with Tark. Her whole undead life revolved around eradicating those with evil intentions and this boy had just such a monster living inside him. To see her try to help him and fight her normal instincts to just kill was intriguing.
The storyline was compelling and frightening! I loved getting inside Okiku's head and I'm sure anyone who loves a good chilling tale would not want to miss Okiku's story!