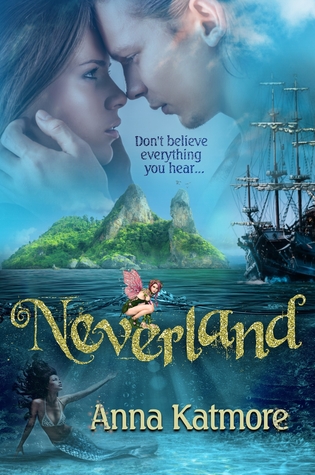 Title: Neverland
Author: Anna Katmore
Publisher:
Source: Bought
Rating: 5 Stars
Synopsis:
Why is there a boy who doesn't want to grow up?
How can an apple start the sweetest romance in fairytale history?
And what does a ruthless pirate have to do with it all?
Angelina McFarland loves reading fairytales. But she never dreamed of falling right into one herself. That's exactly what happens when she slips on her balcony and a flying Peter Pan catches her mid-fall.
Ending up in Neverland where no one seems to age and laws of nature are out of control, Angel has no idea how to get home. Worse, the ruthless Captain Hook captures her and keeps her trapped on his ship, the Jolly Roger, where she gets caught between the lines of a timeless battle. But the more time Angel spends with the captain, the more she sees beneath his ruthless façade.
As Angel desperately tries to find a way to return to her real life, she discovers a train ticket to London in her pocket. It won't be any help in getting off the island, but as her memory fades away the longer she stays, this is all she has left to remind her of her former life and why she can't give up trying.
Or is staying in Neverland forever the better choice after all?
Grab a happy thought and follow Angel on an adventure that will keep you breathless and smiling long after you read the last page…
Buy Links
My Thoughts
How to fall in love with Captain Hook, read Neverland!
Anna Katmore spins a fantastic new tale from an old favorite Neverland! While much of the setting was familiar the author was able to explore it in much more depth and really brought the characters to life. I was also really happy that there was a lot more going on than just the romance as well. There are some interesting things going on in this Neverland that really explain a lot, especially about Peter and Hook. I definitely will never look at these two the same way again.
As secondary characters go my absolute favorite was Tameka who is the pixie who hangs out with Peter. She is so sweet and endearing, but also pretty strong when she needed to be. I hope to see her again in the sequel.
Now my favorite character was definitely Hook (Jamie). He was ruthless and everything a Pirate should be to better put it in his own words:
"And the ugliest, meanest and scariest of them, I was told."
Well scratch the ugly part for sure! However, looks are decieving in this book and when it came to Angel he could be one of the sweetest men out there. Don't let that fool you he is still a pirate and well they love to steal, especially hearts.
The romance was well paced and a bit rocky at first. Even when they were steaming mad at each other you could still see the love brewing. With the help of a couple of lovely and colorful fairies they might have a chance at love, but will Angel still choose to leave forever?
Angelina or Angel for short is one spunky and spirited young girl. Definitely a match for the notorious Captain Hook, but she still was in for the fight of her life. She was caring and loyal even when things were bleak, which I loved about her. I also loved her interactions with Hook. There was never a dull moment between these two and I could not get enough of them!
I highly recommend this book to anyone who has ever wanted to run away to Neverland and maybe a little romance!