It's Monday What are you Reading? Is a weekly bookish meme where we get together to share what books we've read in the past week, what books we're currently reading and what new books we're planning on reading in the coming week along with any reviews or interesting posts. It's hosted by
Sheila @One Person's Journey through a World of Books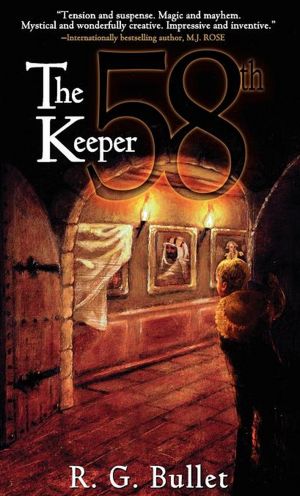 Synopsis:
The 58th Keeper is the story of a boy called Archy Bass, who stumbles upon a mysterious and powerful relic. The moment he touches it, two warring forces race to find his whereabouts. One side thinks he's simply too young and too inexperienced to keep it, and the other just want him dead.
The review can be found
here
Synopsis:Oceanographer Maura Ryan travels to the tropics to meet with her mentor, who claims to have made an amazing new discovery. By the time she gets there, he has vanished…and in his place are five mysterious men who have a strange connection to the sea. As they help her search for the missing scientist, Daq, Janko, Ivar, Ejan and Tagin introduce Maura to the uninhibited life they enjoy on the island. Before long, they ask her to join them in their balmy paradise, and she is tempted to accept. However, Maura can't help wondering about her new friends' role in Dr. Miller's disappearance. She has also begun to suspect that they aren't exactly like other men. Can she respond to their desire for her, wondering if they might not be what they seem? Should she give into what she feels for them, knowing that they might not be human?
The review can be found

here
Synopsis:Abigail Taylor is recovering from the betrayal of her first marriage. Her salon is all that matters to her. Besides, it is not like she is truly missing anything. Sex is overrated. Noah Turner has watched and craved Abby for the last six months, but he can't seem to break through her icy exterior, and she is lethal with those scissors. She may cut off more than just the conversation, especially if she knew the things he wanted to do to her. After rejecting his request for a date, Abby discovers that Noah is a dominant lover. Abby decides to give herself a chance to see if there really is something to sex. Is it truly as good as everyone talks about? Gathering her courage, she approaches Noah with a challenge he can't refuse. "If you can get me to orgasm during sex, I will be at your beck and call for a week" "A month." "Two weeks." "Done!" Will Abby be able to overcome her fears of commitment? Will Noah be able to tie Abby down to him with more than just rope?
The review can be found

here
Love can never die.

Love conquers all, so they say. But can Cupid's arrow pierce the hearts of the living and the dead—or rather, the undead? Can a proper young Victorian lady find true love in the arms of a dashing zombie?

The year is 2195. The place is New Victoria—a high-tech nation modeled on the manners, mores, and fashions of an antique era. A teenager in high society, Nora Dearly is far more interested in military history and her country's political unrest than in tea parties and debutante balls. But after her beloved parents die, Nora is left at the mercy of her domineering aunt, a social-climbing spendthrift who has squandered the family fortune and now plans to marry her niece off for money. For Nora, no fate could be more horrible—until she's nearly kidnapped by an army of walking corpses.

But fate is just getting started with Nora. Catapulted from her world of drawing-room civility, she's suddenly gunning down ravenous zombies alongside mysterious black-clad commandos and confronting "The Laz," a fatal virus that raises the dead—and hell along with them. Hardly ideal circumstances. Then Nora meets Bram Griswold, a young soldier who is brave, handsome, noble . . . and dead. But as is the case with the rest of his special undead unit, luck and modern science have enabled Bram to hold on to his mind, his manners, and his body parts. And when his bond of trust with Nora turns to tenderness, there's no turning back. Eventually, they know, the disease will win, separating the star-crossed lovers forever. But until then, beating or not, their hearts will have what they desire.



What are your reading?